Mosaics are a colourful, resilient, tactile art form that have existed for thousands of years.
Using simple, easily sourced materials, making mosaics is a fun art activity. They can bring people together to create a joint project,  or an individual can make their own art work.
"Community 2 U" Deloraine, Tasmania. Project developer/facilitator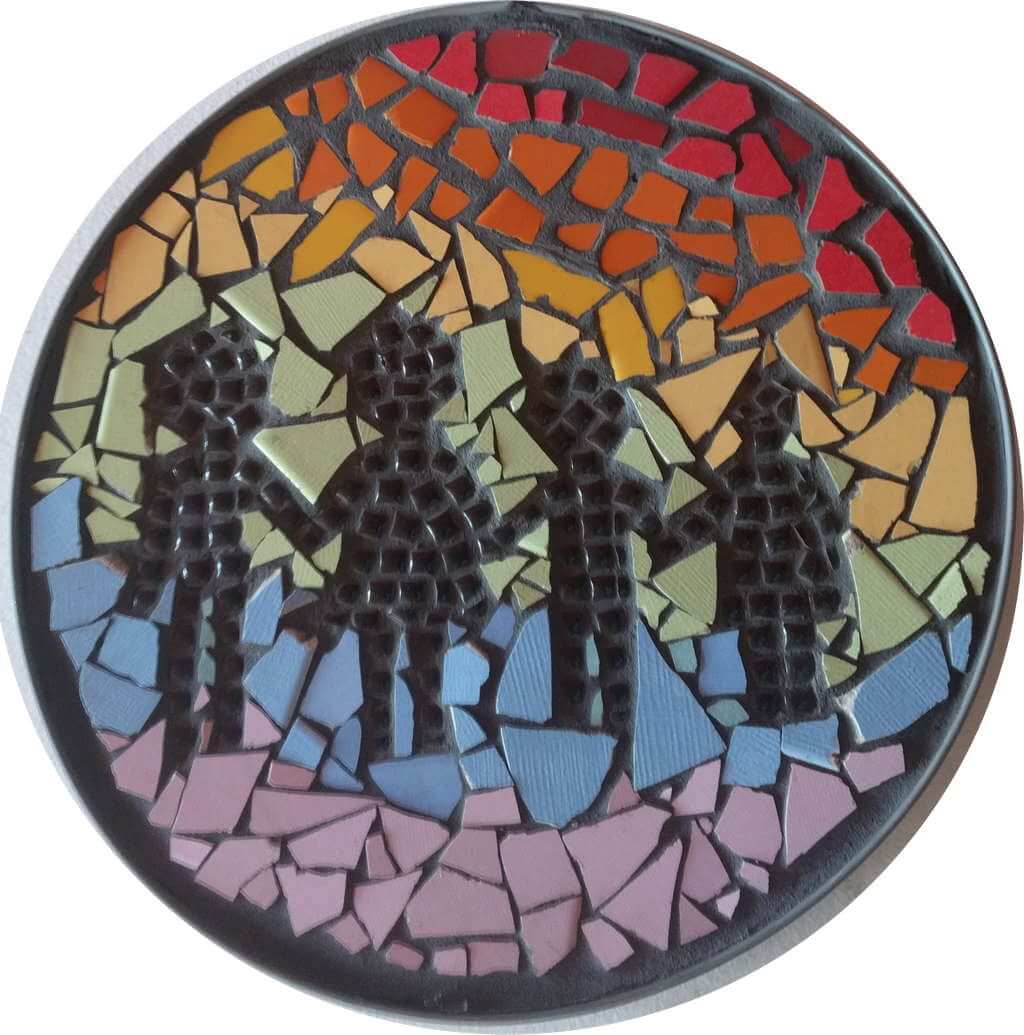 A mosaic project connecting local high school students with Deloraine House, a local Neighbourhood House.
Deloraine House wanted a mosaic that identified with people's idea of community.
A partnership was created with year 8 art students at Deloraine High School. They designed and  made the mosaics at school. They were then  mounted on the front wall at Deloraine House and connected with wavy line mosaic.
The whole mosaic was inspired by the 'share' icon of 3 dots connected by two lines commonly seen on websites and social media platforms,
PYPS mosaic for childrens playground, Deloraine, Tasmania. Project facilitator.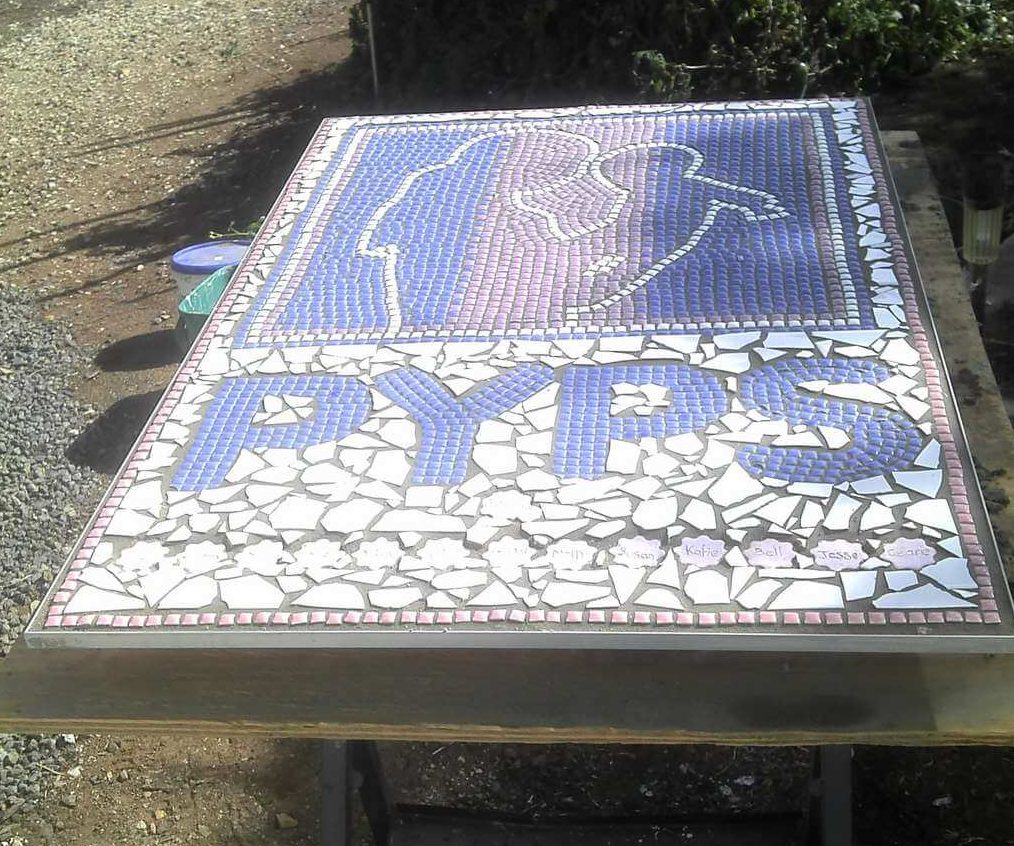 PYPS (Pregnant & Young Parent Support) group. This mosaic was made by a group of young women as part of a fantastic project to raise enough money to have a childrens' playground built in the grounds of Deloraine Hospital. Their names were engraved into tiles and placed along the bottom of the mosaic which was  installed on a stand in the playground.
"Grow It" mosaic for Westbury Community Garden, Westbury, Tasmania. Project developer/facilitator.
This mosaic was part of a community project called "Shape up the Shed" which turned a rusty shipping container into a large sign board for the Westbury community garden and a safe internal storage space.
The mosaic was created by six Westbury community groups, including craft groups, Girl Guides, and a young womens' group.
The theme of four seasons, the sun and the moon, and local geographic features was decided at a community meeting held in the garden.
The mosaic was made in sections on cement sheet so it could be made indoors through the winter months.
Mosaics are great for groups of people, young and old, to work on together. To create a robust, colourful, long lasting weatherproof piece of art. They foster teamwork and a sense of group achievement.
Exeter Child Care Centre, Exeter, Tasmania. Mosaic wall decoration.
Exeter Child Care Centre were looking to make a statement on an undercover outside wall. Working together as a group the children aged between 5 and 12 designed and created their own interpretation of the Child Care Centre logo.
In a later seperate session they added to the mosaic by creating individual mosaic bugs and butterflies.
Vacation Care Centre sign.
A vacation care centre wanted to have their name "Rumpus Room" over the doors to personalise their room.
The letters were pre-cut from cement sheet in the workshop. In one school holiday session the children worked in pairs, using 1cm micro tiles, to tile and grout the shapes.
Great art activity for out of school hours, schools, community gardens, child and family centres, or as adult professional development.

Individual pre-cut cement sheet shapes are provided. In one session participants use colurful, safe 1cm micro tiles to create their individual mosaics which are then grouted.
They can be taken home that day with care or left to dry.
Fantastic to use as garden planters to identify veggies. Decorate a wall space with multiples of these great shapes.
With notice shapes specific to your project idea can be designed and cut.